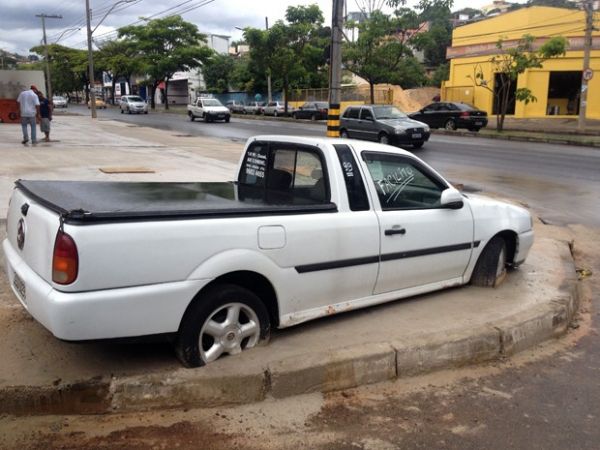 A dispute between a building owner and a car dealer in Belo Horizonte, Brazil, has led to a pickup truck becoming encased in concrete. The building owner ordered the concrete, while the man responsible for the vehicle refused to move it. A complaint was filed, but when a tow company arrived to move the vehicle, it was gone -but the truck was later returned to the same spot.
The car dealer claims that the area is a public street, and the building owner has no control over it. The building owner disagreed, and had the construction company pave the driveway on Wednesday while the vehicle sat there in the middle of it. The next words were about a lawsuit.
--

Good programming is 99% sweat and 1% coffee.
http://rehansheik.blogspot.com
If you forward this email, please delete the forward history, including my email address. Remember, erasing the history helps to prevent SPAMMERS from  mining addresses and viruses from being propagated.

--
--
From:
[Pak-Friends] Group Member
Visit Group:
http://groups.google.com/group/Karachi-786
Subscription:
http://groups.google.com/group/karachi-786/subscribe
===========================================================
¸,.-~*'¨¯¨'*·~-.¸¸,.-~*'[PäK¤.¸.¤F®ï£ñD§]'*·~-.¸¸,.-~*'¨¯¨'*·~-.¸
===========================================================
All members are expected to follow these Simple Rules:
-~----------~----~----~----~------~----~------~--~---
Be Careful in Islamic Discussions;
Bad language and insolence against Prophets (and / or their companions, Islamic Scholars, and saints) is an Instant ban.
Abuse of any kind (to the Group, or it's Members) shall not be tolerated.
SPAM, Advertisement, and Adult messages are NOT allowed.
This is not Dating / Love Group, avoid sending personnel messages to group members.
---
You received this message because you are subscribed to the Google Groups "Pak Friends" group.
To unsubscribe from this group and stop receiving emails from it, send an email to karachi-786+unsubscribe@googlegroups.com.
To post to this group, send email to karachi-786@googlegroups.com.
Visit this group at
http://groups.google.com/group/karachi-786
.
For more options, visit
https://groups.google.com/groups/opt_out
.