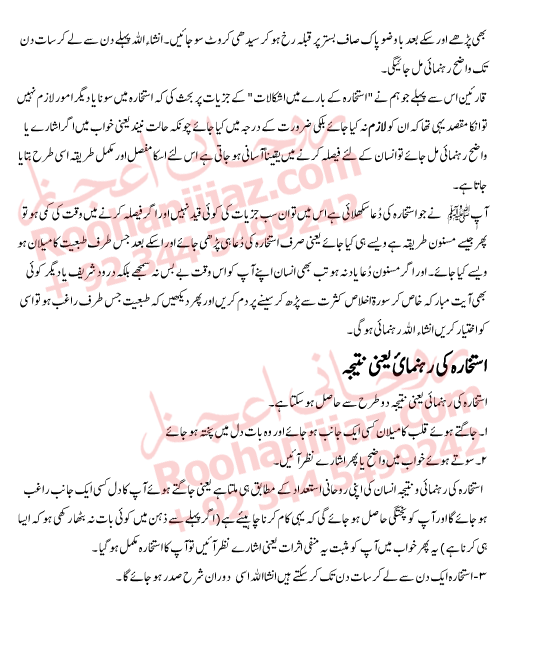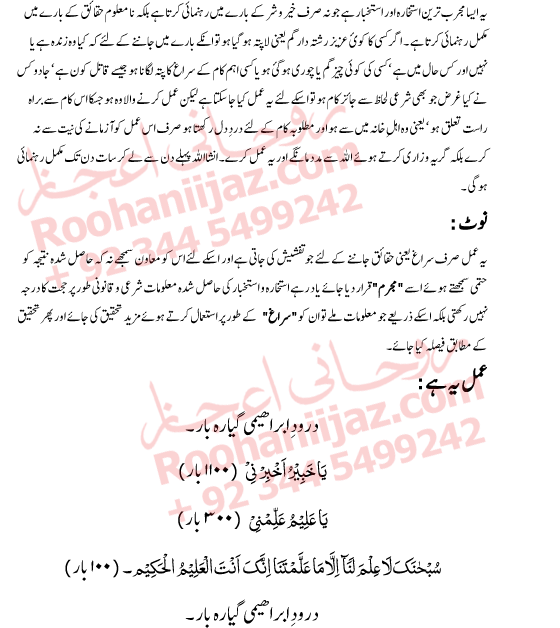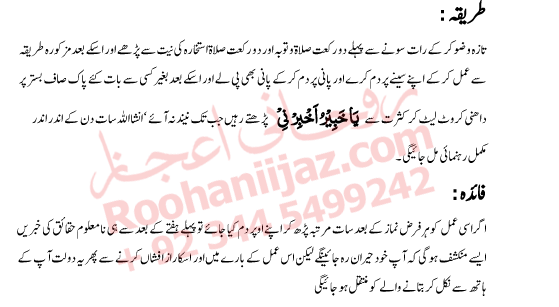 How to do Istikhara|Islamic Istikhara Method
Istikhara aur mashwary k bary may ahadees k andar bari takeed ayi ha. Jou kaam mashwary yani insanou ka apis may mil baith ker kisi b kaam k musbut ya manfi pehlu per sochna aur pher is k nateejay ko samny rakhty huwy Allah say mashwara yani Istikhara kary tu wo kabhi b na'muraad nae hou ga. Inshallah
Istikahary k baary may chund baatain ju logu nay farz ker di hai un ka azala aur sahi tareeqa darj e zail ha.
1) Istikharay k leye nawafil perhny may raat ki qaid nae jub chahye perhain (mumnu waqt k elawa)
2) Istikhara khud kerna chaye is say insan ka taluq Allah Paak ki zaat e aali say jurta hai aj kal tu Istikhara k naam per karubar bun gaye hai.
3) Kisi b hadees k andar nae k Istikhara k baad khawab k andar jawab mily ga yeh tu Allah ki shaan ha wo jaisy chahye rehnamae ferma day. Chahye khawab k andar ya Dil k andar baat alqaa ker day. Khawab ka aana zarori nae.
4) Istikharay k baad ju baat dil may jum jaye aur paiwust hou jaye ya us kaam k leye halaat bunty jaye tu us ko he istikharay ka jawab samajna chaye.
5) Baaz auqaat itna time nae hota k istikhary ka mukamil amal dua k sath kia ja saky tu Shariat ka yehi hukam ha k sirf Dua e mazkoora (mukhtasir istikhara) ker lay yehi Istikhara hou jaye ga.
Istikhara kaisy kia jaye
Sub say behtareen istakhara tu who ha ju Hadees k andar Duaya kalimaat k sath aya ha. Sub say pehly dou rakat Salat u Touba perhy baad may dou rakat Salat ul Hajatt perhy phir mazqura dua e Istikhara perhy laiken awal akhir darood e Ibrahimi 11 baar.
Zail may chund mujarib Istikhara k aamaal hai
Dou rakat Salat u Touba perhy baad may dou rakat Salat ul Hajatt perhy laikin is may dounu rakat may Surah Kousar perhy is k baad 11 bar darood pher
100 dafa Ya Rasheed'o ar'shid'ni is k baad 100 dafa Salam Muhammad ur Rasool ul Allah Salal Allah hu alaye'he wa aalay'he wa sul'lum. (S.A.W.W)
Awal akhir darood e Ibrahimi dermeyan may Surah Inshirah (alum Nash'rah) 9 baar perh ker seeny per dum karain. (Baqi hadayaat oper guzar chuki un per amal karain)
Ya Khabeer'o Akh'birni 99 bar awal akhir darood e paak 11bar. (Baqi hadayaat oper guzar chuki un per amal karain)
Source:
http://roohaniijaz.com/free-istikhara-online/
--

Good programming is 99% sweat and 1% coffee.
http://rehansheik.blogspot.com
If you forward this email, please delete the forward history, including my email address. Remember, erasing the history helps to prevent SPAMMERS from  mining addresses and viruses from being propagated.

--
From:
[Pak-Friends] Group Member
Visit Group:
http://groups.google.com/group/Karachi-786
Subscription:
http://groups.google.com/group/karachi-786/subscribe
===========================================================
¸,.-~*'¨¯¨'*·~-.¸¸,.-~*'[PäK¤.¸.¤F®ï£ñD§]'*·~-.¸¸,.-~*'¨¯¨'*·~-.¸
===========================================================
All members are expected to follow these Simple Rules:
-~----------~----~----~----~------~----~------~--~---
Be Careful in Islamic Discussions;
Bad language and insolence against Prophets (and / or their companions, Islamic Scholars, and saints) is an Instant ban.
Abuse of any kind (to the Group, or it's Members) shall not be tolerated.
SPAM, Advertisement, and Adult messages are NOT allowed.
This is not Dating / Love Group, avoid sending personnel messages to group members.
Do not post anything linked to (or in favor of) facebook.
Thanks